South Beach
Experience better, day and night

A little about
South Beach
The South Beach neighborhood of Miami Beach fairly glitters with nightlife – all day long. It is trendy and quirky and – hey, watch out for that guy on roller skates – and just a fun place to be. Yes, it attracts the rich and famous and youthful, but it now is recognized around the world as worthy of a stay or a visit by everyone. Enjoy the beach or the historic Art Deco architecture or the fine Oceanside dining – or all of it in a single day. And don't miss Haulover Park for fishing, tennis, golf and bicycle rides. Miami Beach's South Beach – you have to experience it for yourself.

The history of
South Beach
South Beach started as farmland. In 1870, Henry and Charles Lum purchased 165 acres for coconut farming. Charles Lum built the first house on the beach in 1886. In 1894, the Lum brothers left the island, leaving control of the plantation to John Collins, who came to South Beach two years later to survey the land. He used the land for farming purposes, discovering fresh water and extending his parcel from 14th Street to 67th in 1907. In 1912, Miami businessmen the Lummus Brothers acquired 400 acres of Collins' land in an effort to build an oceanfront city of modest single family residences. In 1913 Collins started construction of a bridge from Miami to Miami Beach. Although some local residents invested in the bridge, Collins ran short of money before he could complete it. Carl G. Fisher, a successful entrepreneur who made millions in 1909 after selling a business to Union Carbide, came to the beach in 1913. His vision was to establish South Beach.
Businesses in
South Beach
Here is a collection of South Beach businesses. Clicking on the thumbnail image, or the blue "View Member" will take you to that businesses page. We've included some jump links so that you can easily navigate to different categories of businesses. Those, can be found directly below as icons. Or, there is a list of categories in the menu bar.
Albion Hotel South Beach
Lodging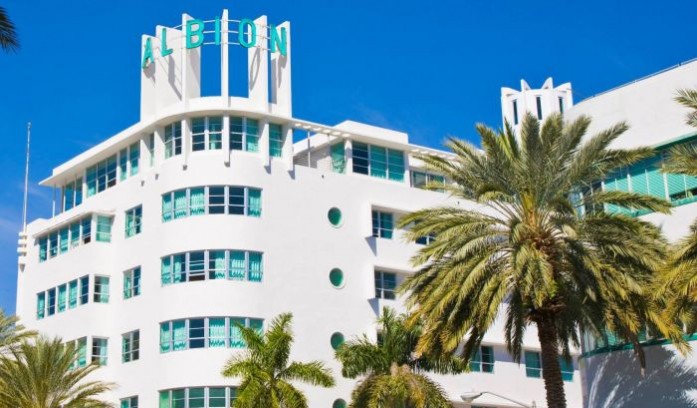 Stylish Boutique Hotel, In the heart of sunny South Beach