Downtown
So much, so close

A little about
Downtown
With major venues and attractions within walking distance of tons of hotels, it's no surprise visitors gravitate toward Downtown Atlanta, but ask the locals and they'll tell you there's much more than that. A few blocks from marquee games at the Georgia Dome and Philips Arena is Castleberry Hill, a walkable neighborhood with some of Atlanta's most undiscovered art galleries. Eat drink and be merry in the Luckie Marietta District, then take in performance art in Fairlie-Poplar. Downtown Atlanta is where a visitor can explore the obvious and discover the unexpected.

The history of
Downtown
The history of Downtown began in 1826 with Wilson Lumpkin and Hamilton Fulton surveying a possible railroad route between Chattanooga, Tennessee and Milledgeville, the state capital at the time. In 1833, Lumpkin, who had become governor, requested that the state legislature charter three railroad lines. By 1836, the state-financed Western and Atlantic Railroad, linking the middle Georgia to the northern U.S., was founded by the legislature and signed by Lumpkin. As a result, the town named Terminus was founded in 1837, named for the end of the railroad line. Terminus received a name change in 1842 when the town's 30 inhabitants voted to change the town's name to Marthasville, in honor of Governor Lumpkin's daughter. By 1845, John Thomson, chief engineer of the Georgia Railroad, suggested that Marthasville's name be changed. The first suggestion was "Atlantica-Pacifica," which was shortened to "Atlanta."
Businesses in
Downtown
Here is a collection of Downtown businesses. Clicking on the thumbnail image, or the blue "View Member" will take you to that businesses page. We've included some jump links so that you can easily navigate to different categories of businesses. Those, can be found directly below as icons. Or, there is a list of categories in the menu bar.
The Letterbox General Store and Soda
Shopping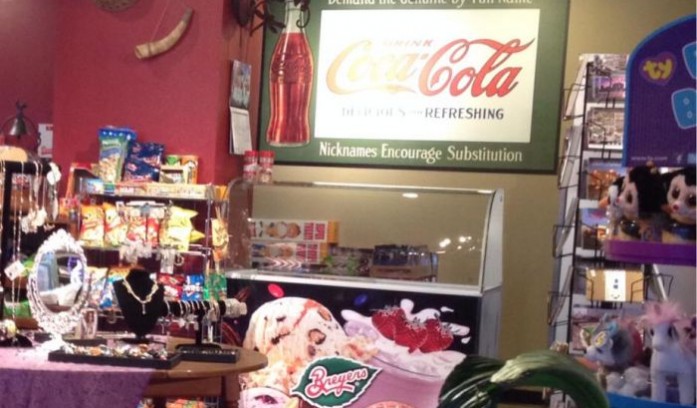 Gift shop in the historic Rhodes-Haverty building